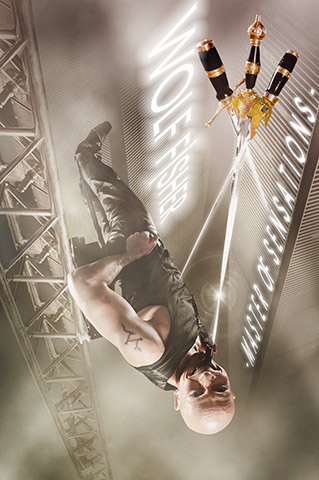 Wolf Fisher: Extreme Balancing Acts

Extreme control over mind and body, precision and danger! Breath-holding suspense, emotions, excitement and thunderous applause as seen on TV in Patrick Sebastien´s "LE PLUS GRAND CABARET DU MONDE", on "THE BEST – le meilleur artiste" is now available live for YOUR event!

Wolf Fisher´s unique, spectacular show act with razor-sharp swords, balanced point to point, is the ultimate challenge that will ensnare your guests.
The "Looping Balance" (balancing while turning around 360° like the hands of a clock) was invented and registered by Karel Bush-Busina. Wolf Fisher holds worldwide exclusive rights on these acts!
Duration of act: versions of 3 minutes, 5 minutes or 6.5 minutes






The variation "50ies Style" combines original classic glass balances with the Looping. This elegant presentation fits perfectly into the typical varieté- or dinnershow.

easy set up and storage
The tower and the small Looping versions can be stored backstage and easily wheeled on stage.
royalty free music
Wolf Fisher can use royalty free music for his Looping balance, produced by www.opus1productions.com
fuss-free action for stagehands
Wolf Fisher generally operates all technical devices himself during the act.
To unload and rig up of the tower, 1 - 2 helping hands are necessary, on stage one stagehand for a simple, short assistance.
stage: No blinding lights from above, no moving lights (like scanner or mirror ball) during the act. The ground must be flat and totally stable.

Version MAXI: height of tower about 5,30 m (18 ft) minimum high of ceiling 7,10m (24 ft) Version MEDIUM: height of tower about 3,50 m (12 ft) minimum height of ceiling about 5,20 m (18 ft) Version KOMPAKT: minimum height of ceiling about 3,30 m (11 ft) • An absolute stable, flat ground for the tower (minimum 2,50 m x 2,50 m / 9 x 9 ft) that can hold more than 280 kg (620 pounds) is necessary as well as power supply of 220V / 50 Hz.